Leader
| | | | | | |
| --- | --- | --- | --- | --- | --- |
| Name | Position | Place | Phone | Email | Room |
| Christoph Cremer, Prof. Dr. Dr. | Head | IMB Mainz | MZ 39-21-518 | [javascript protected email address] | 00.335 |
| and | | IMB Heidelberg | HD 54-8463 | [javascript protected email address] | PCI |
Guests/Associates
| | | | | | |
| --- | --- | --- | --- | --- | --- |
| Name | Position | Place | Phone | Email | Room |
| Udo Birk, Dr. | guest | HTW Chur | | [javascript protected email address] | |
| Maria Contreras-Gerenas, Dr. | guest | IMB Mainz | | [javascript protected email address] | |
| Johann von Hase, Dr. | guest | IMB Mainz | 0176 995 843 20 | [javascript protected email address] | |
| Jan Neumann, Dipl. Phys. | PhD student | IMB Mainz | MZ 39-21-439 | [javascript protected email address] | 00.417 |
| Franziska Polanski, Dr. med. | guest | Heidelberg | | [javascript protected email address] | |
| Wladimir Schaufler, Dr. | PhD student | KIP Heidelberg | | [javascript protected email address] | |
| Florian Schock, Dipl. Phys. | PhD student | KIP Heidelberg | HD 54-4877 | [javascript protected email address] | |
Former members of our group at IMB Mainz
| | | | | | |
| --- | --- | --- | --- | --- | --- |
| Name | Position | Place | Phone | Email | Room |
| Marton Gelleri, Dr. | Deputy Group Leader | IMB Mainz | | [javascript protected email address] | |
| Alexander Al Saroori, MSc. | Student assistant | IMB Mainz | | [javascript protected email address] | |
| Sven Beichmanis, MSc. | MSc student | IMB Mainz | | [javascript protected email address] | |
| Amine Gourram, MSc. | MSc student | IMB Mainz | | [javascript protected email address] | |
| Irma Gryniuk | ISS student | IMB Mainz | | [javascript protected email address] | |
| Fabian Jung, BSc. | BSc student | IMB Mainz | | | |
| Hyun-Keun Lee, MSc. | MSc student | IMB Mainz | MZ 39-21-439 | [javascript protected email address] | 00.417 |
| Dongyu Ma | MSc student | IMB Mainz | | [javascript protected email address] | |
| Abhijit Marar | MSc student | KIP Heidelberg | HD 54-4877 | [javascript protected email address] | |
| Ramon Lopez Perez, Dr. | PhD student | KIP Heidelberg | HD 42-2505 | [javascript protected email address] | |
| Dimka Pieper-Kastreva, M.Phys. | PhD student | IMB Mainz | | [javascript protected email address] | |
| Kirti Prakash, Dr. | PhD student | IMB Mainz | MZ 39-21-439 | [javascript protected email address] | 00.417 |
| Mariia Rybak | ISS student | IMB Mainz | | [javascript protected email address] | |
| Aleksander Szczurek, MSc. | PhD student | IMB Mainz | MZ 39-21-439 | [javascript protected email address] | 00.417 |
| Dominik Waibel, BSc. | BSc student | IMB Mainz | | [javascript protected email address] | |
| Julita Wesolowska | Exchange student | IMB Mainz | | [javascript protected email address] | |
| Mei Yu | DAAD student | IMB Mainz | | [javascript protected email address] | |
| Jun Xing | MSc student | IMB Mainz | MZ 39-21-439 | [javascript protected email address] | 00.417 |
| Sebastian Zeis, BSc. | BSc student | IMB Mainz | | | |
| Chen Zhe | MSc student | KIP Heidelberg | | [javascript protected email address] | |
| Dominika Zurek-Biesiada | PhD student | IMB Mainz | | [javascript protected email address] | |
| Aneliya Yoveva | ISS student | IMB Mainz | | [javascript protected email address] | |
Please also take a look at the list of people at our IMB website and the list of people at our Heidelberg website.
Here is a list of former members of our group in Mainz and in Heidelberg.
Maybe you are interested in joining us?
Apr 2015: Our team in Mainz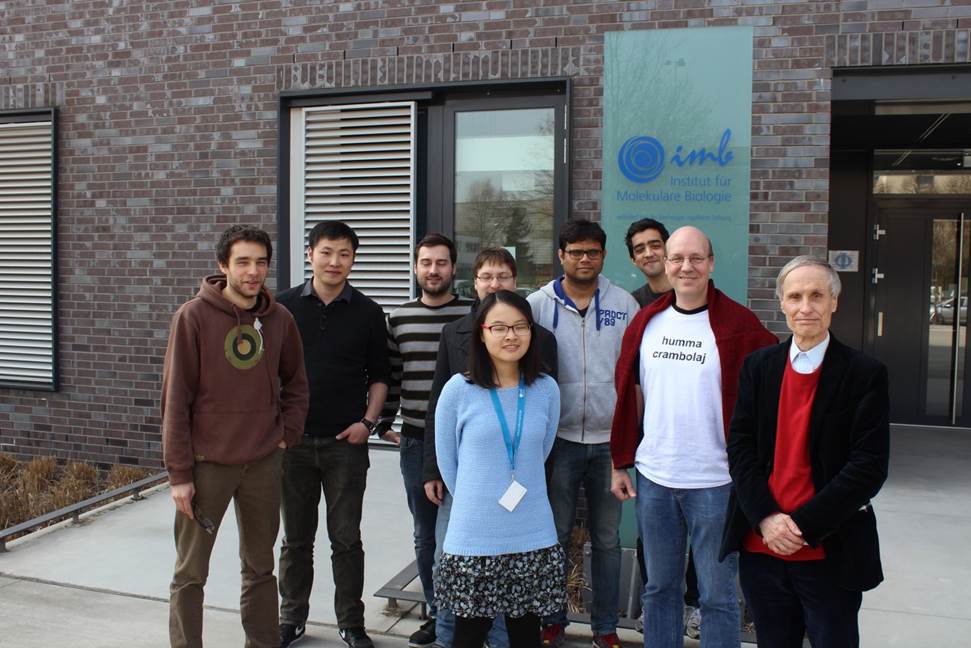 June 2013: Group retreat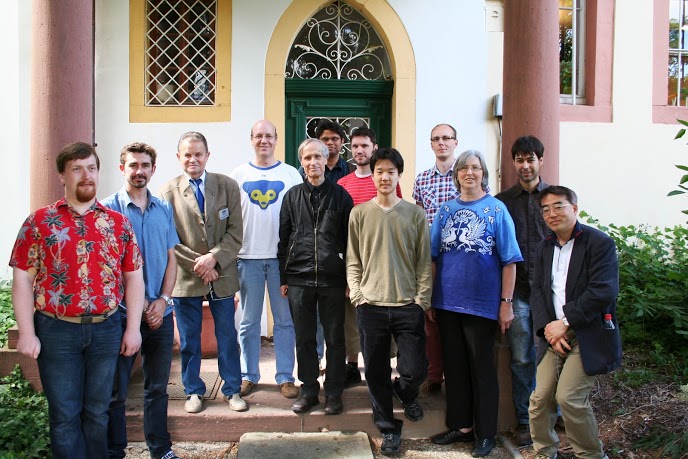 This summer, we set out for a scientific excursion to Schloss Wachenheim (Pfalz).
March 2012: Our team in Mainz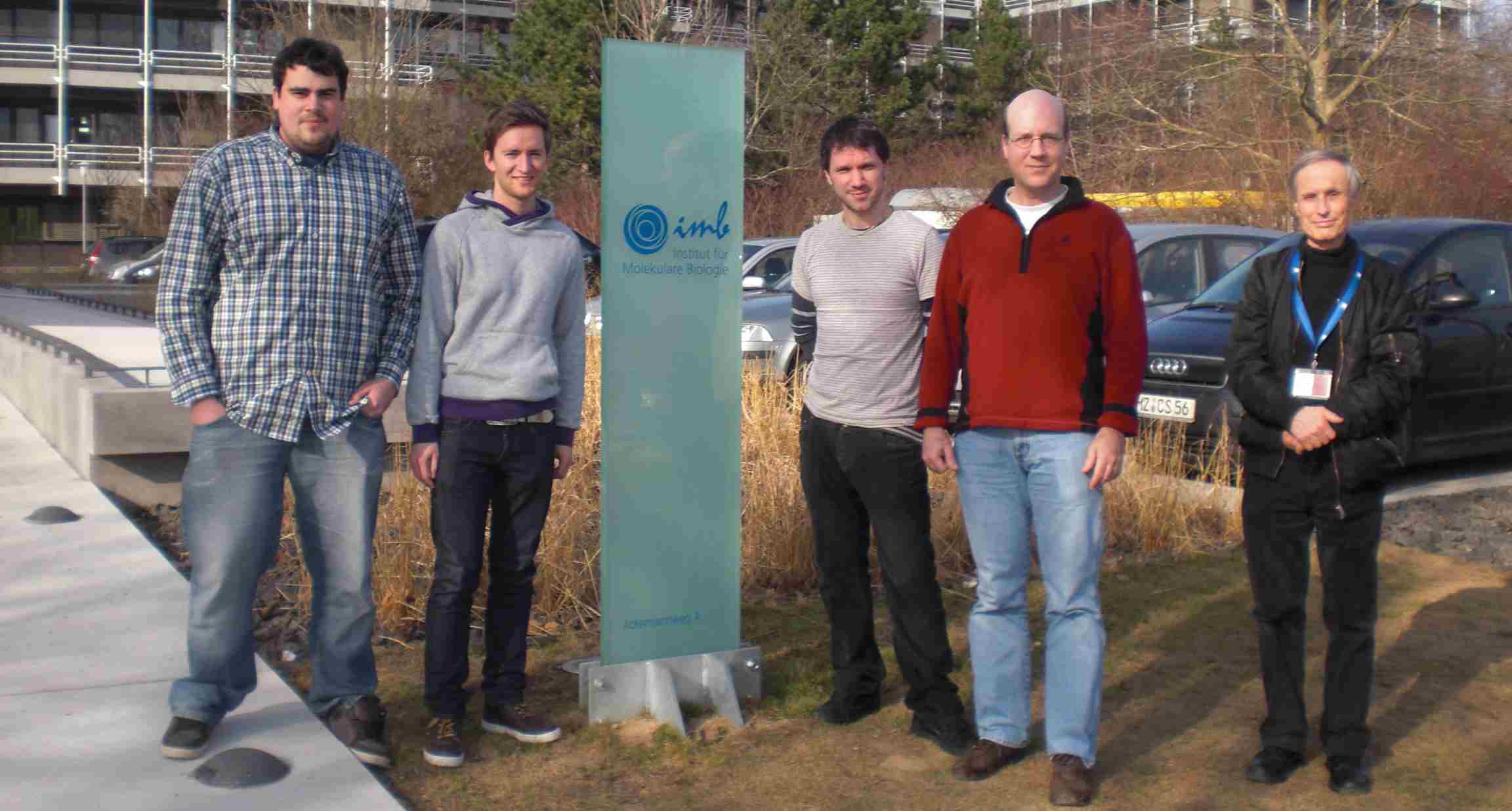 Some members of our mainz division in 2012 (from right to left):
Group leader: Prof. Dr. Dr. Christoph Cremer
Acting group leader: Dr. Udo Birk
Sven Beichmanis, Fabian Jung, Sebastian Zeis

---